Philip Kellis, Bailey Perkins, and Elizabeth Robertson describe the connection between school and a HERP Project HRE.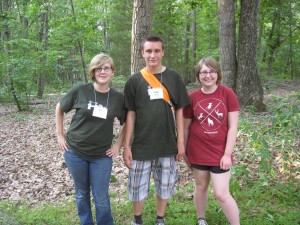 ER: I actually wasn't much of a nature person before HERP, but my mom heard about it and she was like, "Well I think you'd like this." And then I was actually surprised by how much I actually did like it when I got there. And it really helped me with some of the science classes. Like I just took biology this year, and I connected a lot of the stuff that we did at HERP with things with what we did in our biology class, kind of like she was saying. There was a connection between school and this and it really helped I think.
BP: Before I came the first year, I was such an uptight kind of stressed person. I would complain about everything. And then when my parents picked me up, we went to the beach, and I was the most relaxed person. We got to the beach house, the air conditioning wasn't on, I didn't have toothpaste, none of my clothes were clean, and I was just like, "It's OK! It's cool! I'll just chill here! It'll all be fine!" And I don't know exactly how that happened, but something about being here just made me calm down more and just take it in instead of complain about everything. So that helped a lot.
Click here to listen: 
Click here to listen: