Dylan, Niall, and Nathan Schepker:  A father and son explain the difference between seeing snakes in a museum and seeing snakes outside.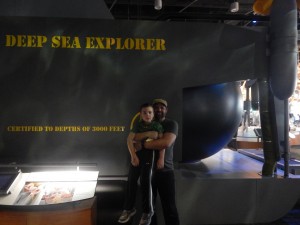 Interviewer: So what do you all think is the difference between coming and seeing snakes and bones and stuff here at the museum and maybe when you're out playing or snake hunting back at home?
NIS: Well, at our house we usually go into the woods and find them. Here we can just come in, they're in a cage, and we can see them.
NAS: Mm-hmm. Yeah actually just getting outside and getting into nature and being able to track down a snake, see if we can find out when they're actually in their environment, so we're learning a lot more about their environment.
Click here to listen: 
A father shares an early nature memory with his sons.
NAS: [I'm] Trying to remember back some of the first experiences I had with wildlife. The first experience I remember was getting bit by a snake, a black snake, when I was maybe about three years old. And a friend of my dad's had caught a black snake and kept it in the house. I was playing with it, it turned around and bit me. And I yelled and screamed and my dad had to wrench it off of me. It was dangling from my arm. It wouldn't let go.
DS: Ouch.
NAS: Yeah, ouch! But instead of being scared off forever, what did it do? I became fascinated by it instead. I grew up deaf so I didn't hear anything until I was nineteen. So the outdoors and wildlife were kind of a source of entertainment to go out and see stuff like that.
Click here to listen: